About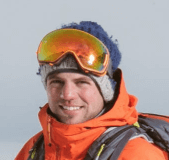 Snow Gaper was born on the slopes of the French Alps by me Frank V. I'm a keen skiing and snowboarding enthusiast who lives in Warren, Ohio with my partner Natalie and daughter Millie. When I'm not on the slopes he can often be found taking on new challenges which include running, swimming and mountain climbing. After sharing my knowledge and my love for sport I decided to ask my friends to help create snowgaper.com
We are a bunch of ski & snow enthusiasts who decided to put together a website to help people when they are looking for tips, tricks and products for the next trip on the slopes. Those without the knowledge or experience in skiing & snowboarding can find it difficult to find what they are looking for, this is were Snow Gaper can help.
The information on this site is only our opinion from the experience of ski enthusiasts we have in the field. We have no ties to any company or manufacturer so all the guides and reviews are solely our own without any external influence. We hope it helps you out and that you pick up some grains of knowledge that will make your journey a little bit easier.
If you have any questions or would like us to review a particular product then please get in touch with us via the contact page.
Futhermore, SnowGaper provides ski services to the Gilroy, California area. SnowGaper's goal is to provide an affordable and reliable service so that people in Gilroy can enjoy skiing at a reasonable price. Please check out our service page.
Snow Gaper is a participant in the Amazon EU Associates Programme, an affiliate advertising programme designed to provide a means for sites to earn advertising fees by advertising and linking to Amazon.co.uk