Top 4 Snowshoeing Locations in the United States
by Frank V. Persall
The United States is bustling with incredible ski resorts. People from all over the world travel to the U.S to visit some of the best skiing and snowboarding terrain in the world! Aside from being a hotspot for skiing and snowboarding, the U.S is the perfect location for snowshoeing! With a variety of ski resorts, it can be overwhelming to choose just one place to go snowshoeing. Thus, we have created a list of the top four snowshoeing locations in the U.S!

1. Beaver Creek Resort
Located in Colorado, Beaver Creek Resort is mountain sport heaven! If you want a European luxury type resort, without having to travel to Europe, then Beaver Creek Resort is the place for you. McCoy Park is Beaver Creek Resort's snowshoeing park, McCoy Park offers 32 kilometers of the best rustic and groomed trails. While snowshoeing at Beaver Creek Resort, you will see breathtakingly beautiful views of three different mountain ranges. Also, Beaver Creek Resort is one, of only a few, of North America's only lift-accessed snowshoeing trails!
2. Stowe Mountain Resort
Located in the mountain sport hotspot state of Vermont, the Stowe Mountain Resort offers approximately 100 miles of snowshoeing trails! The snowshoeing trails weave through the Green Mountain State Forest network, as well as around the village and the slopes. If you are a beginner snowshoer, then take a guided tour the Stowe Mountain Lodge to, and around, their gold course. While snowshoeing this trail, you will get to see fantastic views of Mount Mansfield!
3. Jackson Hole Mountain Resort
Located in Wyoming, Jackson Hole Mountain Resort offers state of the art snowshoeing trails! All of the snowshoeing guides at Jackson Hole Mountain Resort have been licensed by the U.S. Forest Service to do guided tours. Thus, you will be traveling with the best possible guides you could be. Another perk of Jackson Hole Mountain Resort's snowshoeing trails is their access to the Grand Teton National park. If you are an intermediate to expert snowshoer, make sure to check out Phelps Lake and Laurence S. Rockefeller!
4. Northstar California Resort
Located in California, the Northstar California Resort is a part of Vail Resort skiing destinations. Aside from Northstar California's fantastic options for snowboarding and skiing, Northstar California offers over 35 kilometers of carefully groomed and scenic trails for snowshoeing! Shared with cross-country skiers, Northstar California's snowshoeing trails offer a variety of terrain. Once you purchase your trail pass, head up to the gondolas or Village Express lift, which will take you to where you can access the fantastic snowshoeing trails!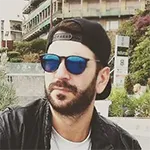 About Frank V. Persall
Frank is originally from the UK, but he has a passion for skiing that knows no bounds. He has made it his life's mission to visit the best ski resorts across the USA and the World. Frank loves spending time with his wife and three children on ski slopes, as they all share his love for the activity.
Thoughts on "Top 4 Snowshoeing Locations in the United States"