20 Telltale Signs to Check If You Have a Ski Addiction
by Frank V. Persall
20 Telltale Signs To Check If You Have A Ski Addiction

Other Ski Addiction Symptoms To Consider
Consistently watching reruns of ski Sunday.
Living in poverty but in a ski in ski out apartment.
Wearing full gear in your sleep before a ski day.
Waiting for winter the whole of summer.
Having a difficult time sleeping before a big powder day as you do not want to miss the first lines.
Installing a ski chair in your home..
Basing your marriage proposal, wedding and honeymoon on a ski season.
Keeping 9 pairs of skis in your vehicle year-round.
Buying seasonal ski pass for more than you earn per month.
Wearing ski goggles to the beach.
When your boss identifies a statistically significant inverse correlation between fresh snowfall and your sickness absences.
Worshiping one god, Ullr.
Continuing to ski with an injury from last years season.
Browser search history is snowgaper.com
Trying to sneak through the Swiss/ French border disguised as tourists who want to buy a cuckoo clock !! With skis hidden under the seats.
Related Posts: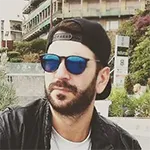 About Frank V. Persall
Frank is originally from the UK, but he has a passion for skiing that knows no bounds. He has made it his life's mission to visit the best ski resorts across the USA and the World. Frank loves spending time with his wife and three children on ski slopes, as they all share his love for the activity.
Thoughts on "20 Telltale Signs to Check If You Have a Ski Addiction"